Examination for Japanese University Admission for International Students (EJU)
The Examination for Japanese University Admission for International Students (EJU) is used to evaluate whether international students who wish to enroll at the undergraduate level at universities or other such higher educational institutions in Japan possess the Japanese language skills and the basic academic abilities needed to study at those Japanese institutions.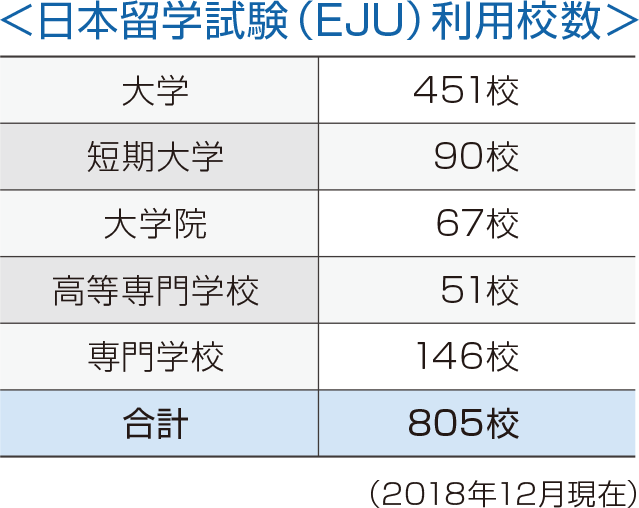 Whether you may use the EJU as an entrance exam can vary even between two undergraduate departments within the same university. Check the website below to find out whether EJU is necessary for the undergraduate department you wish to enter.
1. When?
First session: June
Second session: November
2. Where?
Japan: 16 cities
Outside Japan: 18 cities in 14 countries and regions
Examination sites (outside Japan)
India (New Delhi), Indonesia (Jakarta, Surabaya), South Korea (Seoul, Busan), Sri Lanka (Colombo), Singapore, Thailand (Bangkok, Chiang Mai), Taiwan (Taipei), the Philippines (Manila), Vietnam (Hanoi, Ho Chi Minh City), Hong Kong, Malaysia (Kuala Lumpur), Myanmar (Yangon), Mongolia (Ulaanbaatar), Russia (Vladivostok)
3. What subjects?
Students choose the subjects and languages specified by their universities of choice. Note that the Science and Japan and the World subjects cannot be taken at the same time.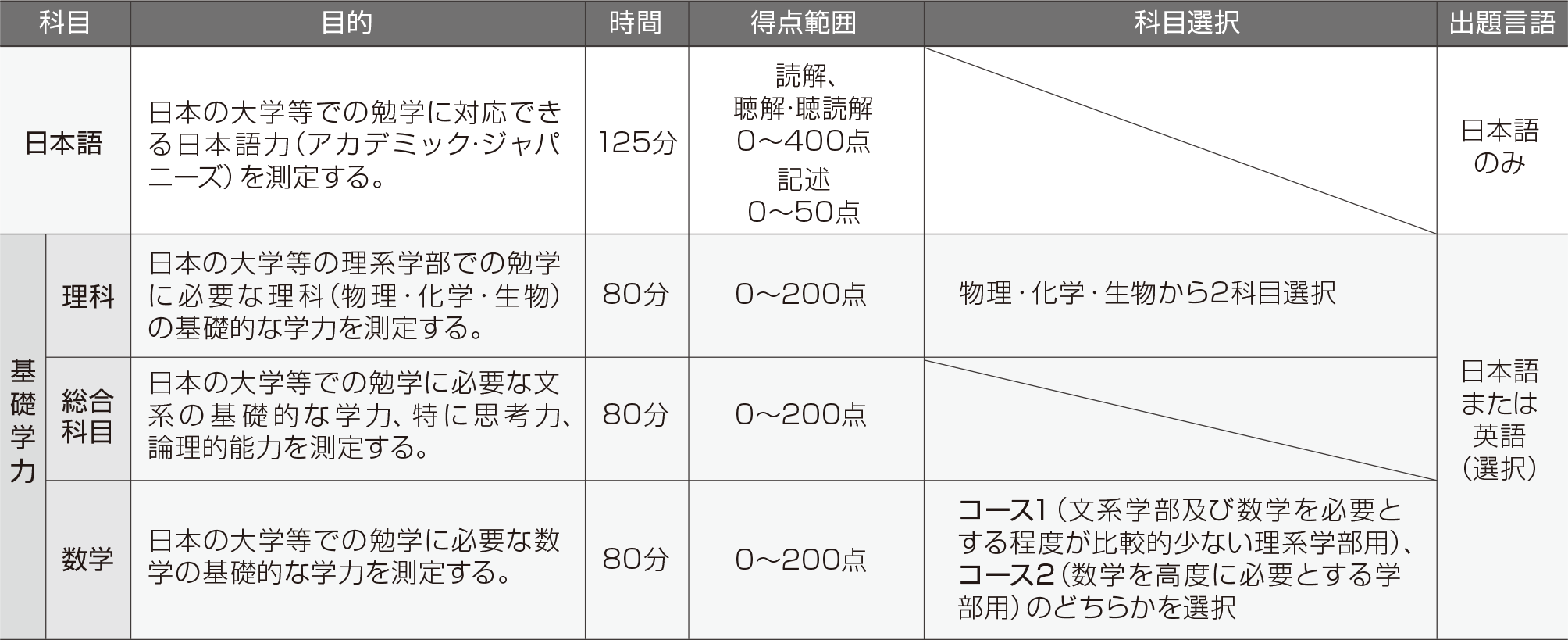 4. Schedule

Note: Applications may be submitted via post mail or online depending on the city. Please see the following website for details:
5. EJU merits
1) Scholarship reservation program
Privately financed international students who have achieved an excellent score on the EJU and will enroll as regular students in universities (undergraduate program), junior colleges, colleges of technology (in the third year or above) or specialized training colleges (postsecondary course) are eligible to participate in the reservation program for the Monbukagakusho Honors Scholarship for Privately-Financed International Students.
Monthly stipend (FY2019): JPY 48,000
Application method: Apply using the designated method at the time you apply for the EJU.
Screening method: The recipients of the scholarship reservation program will be selected from those who have achieved excellent scores on the EJU.
2) There is no limit to the number of times EJU can be taken, nor the age of the test taker. EJU scores remain valid for two years.
No matter how many times or how old you are, you can take the EJU. EJU scores remain valid for two years so you can have up to four valid EJU scores, but you can only submit the test score of one session to each school. It is impossible to submit the scores of different sessions per subject. As many schools specify the EJU session that their applicants are required to take, please check the application guidebook of your school of choice to find out about their EJU requirements.
3) Schools offering pre-arrival admission system
You can obtain admission before you arrive by taking the EJU.
6. Past EJU exams
EJU Questions Booklet (with a CD containing listening and listening-reading comprehension questions)

Past year questions of EJU
Authored and edited: JASSO
Published: Bonjinsha Co., Ltd.
(sold in Japan and Republic of Korea)
Note: Available for browsing at Study in Japan
Resource Facilities
Contact