Guide book "Student Guide to Japan"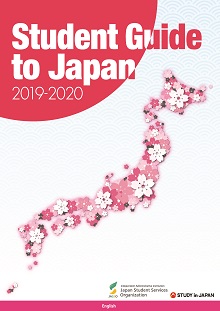 "Student Guide to Japan" is an essential book for international students planning to study in Japan.
Please consult this guide book at first.
For further information, click the links below.
Multi-Language version
Student Guide to Japan ( English )
As of May 21, 2019
Contents
5 Reasons to Study in Japan
Japan Facts and Figures
Feedback from International Students in Japan
Interview - Why I Chose to Study in Japan
Campus Diary (1)
Planning Your Studies in Japan
Schedule
Japanese Educational System
Universities (Undergraduate) and Junior Colleges
Graduate Schools
Degree Programs in English
Short-term Study Programs and University Transfer Program
Colleges of Technology
Professional Training Colleges (specialized training colleges postsecondary course)
Japanese Language Institutes
Examination for Japanese University Admission for International Students (EJU)
Other Exams Used for Studying in Japan
Campus Diary (2)
Immigration Procedures
Calculating the Costs of Studying in Japan
Living Cost and Price
Academic Fees
Scholarships
Part-time Work
Accommodation
Medical Insurance, Accident/Property Insurance and Kyosai
Internship
Employment in Japan
Statistics
Q&A about Study in Japan / Study in Japan Global Network Project
Useful Information
References
国内に限り郵送いたします。ご希望の場合は、"請求フォーム"に氏名、送付先の郵便番号、住所、電話番号、希望言語(日本語・英語等)を明記の上、請求してください。
How to obtain the brochure in print
Brochures can be sent only within Japan.
Please write your name, postal code, postal address in Japan, telephone number and language preference (Japanese, English, etc.) into the "Request Form".
Attention: Please download those data (Spanish, German, French, Russian and Myanmar language) yourself.

Contact
Study in Japan Unit, Information Services Division, Student Exchange Department, Japan Student Services Organization (JASSO)
Address 2-2-1 Aomi, Koto-ku, Tokyo 135-8630
TEL (telephone) number is +81-3-5520-6111
FAX (facsimile) number is +81-3-5520-6121