PERSADA, the domestic partner of Japan
PERSADA, the domestic partner of Japan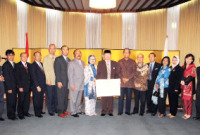 Konnichiwa to everyone who has completed his or her studies in Japan as an international student. Like you, there are many people in Indonesia, and in Asia as a whole, who have experienced studying in Japan as an international student. Your seniors in this regard are deepening their ties and carrying out various activities. I would like to take this opportunity to introduce our domestic organization and our organization for the ASEAN region in the hope that you will participate in our activities.
The national organization is named PERSADA, an acronym of Perhimpunan Alumni Dari Jepang, Association of Indonesian Alumni from Japan.
PERSADA, the national partner of Japan
This is a voluntary non-profit organization with headquarters in Jakarta and branches throughout Indonesia. PERSADA was established in 1963 for the purpose of uniting the potentials for national development while maintaining and strengthening relations with Japanese people. Anyone who graduated from colleges and universities, as well as long-term trainees in Japan may join.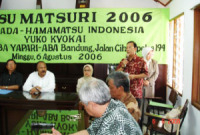 Historically, the earliest Indonesian ryugakusei went to Japan in early 1930s. At that time Japan had been known as a world power in industry, military and political influence, and as an Asian country that could defeat the European power, Russia, in 1905. Some Indonesian intellectuals and businessmen who were burning with desire to be independent from the Dutch colonialists motivated their sons to learn technology and business management in Japan. About fifteen boys then found their ways to Osaka and Tokyo. Besides learning the Japanese language and science, they also engaged themselves actively in political activities for independence. Even though Japan was dominated by militarists, the students could get support from Japanese intellectuals who wished to see an independent Indonesia. They are known as pre war or senzen ryugakusei.
After Japan ousted the Dutch colonialists in March 1942, the Japanese Government sent youngsters from many parts of the now Indonesian archipelago with the aim of training future leaders to assist the new colonialist Japan. Many were also recruited from Burma (now Myanmar), Malaya (now Malaysia, Singapore and Brunei), the Philippines, Vietnam and Muang Thai. This group is well-known as the Nanpou Tokubetsu Ryugakusei. They arrived in 1944 and 1945, and were taken care of by the Kokusai Gakuyukai Nihongo Gakko or International Institute of Japanese Language, an institution established by the Ministry of Foreign Affairs, in dormitories at Meguro and Shinjuku, Tokyo. Unfortunately not long after their arrival, without enjoying a good student life, they were caught in a chaotic and miserable situation. A few students died as victims of the B-29 bombing raid of Tokyo and atomic bombing of Hiroshima.
Most of these two groups came back to Indonesia after finishing their studies and soon engaged as leaders of independence movements either in military or diplomatic fields. They later became high officials at the foreign ministry, defense ministry, trade and industry, health ministry and in educational fields. A few established trading and industrial companies. Needless to say, they carried with them the cultural values centered on samurai spirit and knowledge they acquired in Japan, and enthusiastically applied them in their careers.
After the war, as a result of the negotiation by our seniors or sempai above with the Foreign Ministry of Japan in the framework of war reparation program, more than one thousand students and trainees had been dispatched to Japan from 1960 to 1964. After learning the Japanese language at the same Kokusai Gakuyukai Nihongo Gakko for one year, they dispersed to many colleges and universities from Hokkaido to Kagoshima to study engineering, commerce, medicine and the arts. Each student was encouraged by Sukarno, the founding father and the first president of Indonesia to also act as an ambassador in introducing the young country and to establish friendship with grass-roots Japanese people. They are known as baisho ryugakusei. Besides baisho ryugakusei there were also privately sponsored students and those invited by the Japanese government's organizations. The situation in Japan was high in spirit of catching up with the west in all fields. Everybody worked from early morning to late at night. Naturally, they came back with the values of hard work and technical and managerial competence in production. They were enrolled at various state enterprises, hospitals, banks, hotels and universities throughout Indonesia. About twenty percent went to private enterprises related to Japanese capitals as employees. In addition this group brought in and spread very large-scale traditional values in the form Japanese martial arts such as karate, judo, shorinji kempo and aikido.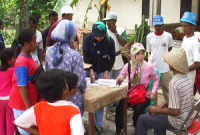 Still, with the desire to apply the values they brought in from Japan, the above three groups established PERSADA and designed workable programs. Together in PERSADA they created Darma Persada University as well as various Japanese language courses in the regions outside Jakarta. The university has become a pride of all former ryugakusei and has gained attention by Japanese people and its government leaders as an asset or a living monument of friendship between Indonesia and Japan.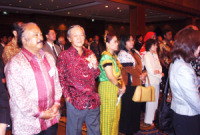 Afterwards, since 1970 the Indonesian ryugakusei has consisted of students sponsored by both the Indonesian and Japanese governments as well as trainees of large-scale Japanese enterprises. Many entrepreneurs including the former ryugakusei above sent their children to study engineering and business. In this period the Japanese social system seems to have changed substantially, and it appeared that the young ryugakusei could not find an environment conducive to establishing personal friendships with the Japanese as experienced by their sempai. The Japanese had become rich but rather difficult to get along with. Both parties have no time allowance or "yoyuu" for family gatherings, young people gatherings, sport and art activities, mountain climbing, skiing or playing mahjong. They were brought up in pop culture, individualism and the pursuance of ultimate efficiency. These new breed of former ryugakusei are now gradually taking over the baton of leadership of PERSADA.
Obviously, PERSADA is determined to carry out its mission to serve as a bridge between Indonesia and Japan. The bridge is expected to provide values needed by each party in real term. Indonesia now needs technology and investment, while Japan may need skilled workers to assist millions of Japanese small and medium enterprises to stay competitive, as well as values from Indonesia. Moreover, Indonesia with its abundant natural resources and human resources as well as market potential, must still be considered a valuable country.
In the past, the relationship was between donor and recipient or between employer and employee, but from now on, it is important to build relations through partnerships on equal footing. China and Korea have shown that through partnerships their former ryugakusei have formed, as well as the large number of enterprises they established that later become real and sustainable sources of prosperity. They called it the "golden bridge."