Scholarships
In Japan, only a few scholarships cover all the costs of study; most aim to cover just a portion of the student's living expenses and tuition fees. Therefore, calculate the total expenses of studying in Japan to create a financial plan that does not rely solely on scholarships but rather your own funds as well.
Types of financial assistance available
Scholarships
Tuition reduction/exemption systems (30%, 50% or 100% exemption, etc.)
When to apply
Before coming to Japan: Financial aid you can apply for prior to coming to Japan (very few options)
After coming to Japan: Financial aid you can apply for in Japan after coming to the country and enrolling in a school (many options)
Eligibility and the approximate number of organizations offering relevant financial aid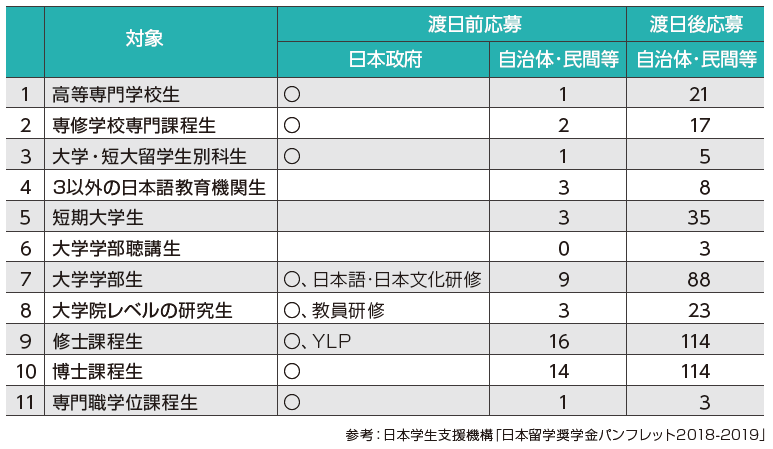 Application requirements
Application requirements include 1) age, 2) country or region, 3) school enrolled in in Japan, 4) major or specialty field, etc.

Screening examinations
Screening for most financial aid is conducted using only the documents submitted, but some organizations require an interview or a written examination testing your general education, knowledge in your field and/or language abilities.
How to apply
The majority of financial aid requires you to apply through the school you are enrolled in. (Please confirm the relevant details at your school's International Student Office.)
Scholarships you can apply for before you arrive in Japan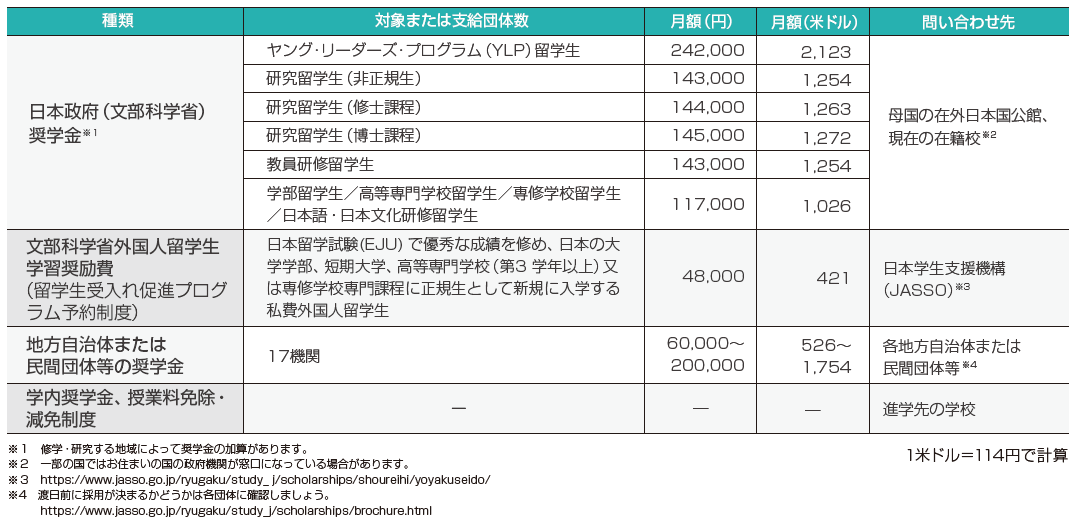 Scholarships for exchange students under inter-university exchange agreements, etc.

Scholarships you can apply for after you arrive in Japan

Find a scholarship/tuition reduction/exemption system
You can also look up scholarship information on the following websites: