2020-2021 Study in Japan Virtual Fair
As of October 12, 2020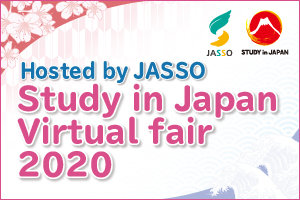 1. Objective
This virtual fair is designed to provide students and educators with up-to-date and accurate information about Japanese higher education and research in order to help the students select an appropriate school and achieve their academic pursuits, thereby promoting study in Japan.
2. Event Dates and Types of Exhibitors
November 29, 2020 14:00~17:00

(Japan Time)

Specialized Training Colleges (postsecondary course)
December 6, 2020 16:00~19:00

(Japan Time)

Japanese Language Educational Institutions
December 12, 2020 14:00~17:00

(Japan Time)

Universities, Junior Colleges
December 13, 2020 14:00~17:00

(Japan Time)

Universities, Junior Colleges

For more details, please refer to the link below.
3. Target Countries and Persons
Target Countries: All over the world. Main targets are Indonesia, Korea, Thailand, China,
China (Hong Kong), Vietnam, Taiwan and Malaysia.
Target persons: High school and university students wishing to study in Japan, college guidance counselors, international educators, etc.
4.

Organizers

(Tentative)
(1) Organizer:Japan Student Services Organization (JASSO)
(2) Supporter:Ministry of Foreign Affairs of Japan
(3) Cooperators:
Association of Indonesian Alumni from Japan
Korean Japanese Association
Center of Korea-Japanese Exchange, Busan
Old Japan Students' Association, Thailand
Old Japan Students' Association, Thailand North Branch
Japan Alumni of Vietnam
Vietnam - Japan Friendship Association
Japanese Universities Alumni Club in Ho Chi Minh City
Japan Graduates' Association of Malaysia
Alumni Look-East Policy Society
National Association of Vocational Schools of Japan
Metropolitan Tokyo Professional Institution Association
The Japan Society of Hong Kong
The Japan Universities Alumni Society Hong Kong
Overseas Students Japanese Scholarship Association
The Language Training & testing Center
5. Program
We will be launching our website made especially for the Study in Japan Virtual Fair (hereinafter referred to as event website). The detailed contents of this virtual fair are as below.
(1) Providing information about participating institutions Each institution's introductory video and basic information will be posted on their page on the event website. These contents will be offered in both Japanese and English.
(2) Virtual seminars conducted by participating institutions (The dates are mentioned above in 2.) The contents, which are designed to spark students' interest in studying in Japan, include presentations by institutions about their programs and strong points, as well as a panel discussion with senior international students. These event will be livestreamed in both Japanese and English. Individual consultation will be conducted via live chat. After the virtual fair, all recorded seminars will be displayed on the "Study in Japan" website for approximately 1 month.
(3) Seminar JASSO will produce videos to give an overview of Study in Japan, the Japan Examination for Japanese University Admission for International Students (EJU), and Japanese government (MEXT) scholarships. We will broadcast these videos on our event website.
6. Exhibitors